Do you have

…the confidence to believe that a different way of living is possible.
?
Another excellent article from Naomi Klein
Sad news today as I learned that Brian Haw the Peace Protestor who has been camped outside the houses of parliament since 2001, has died yesterday. This man had the courage to choose to make the campaign for peace his personal business, and I have nothing but respect for him for doing that. Would you camp on a pavement in London for ten years because you believed in an issue? RIP.
Oh dear oh dear, seems allot of people voted Conservative yesterday.
Here's how the figures broke down for the Newbury Constituency:
Rt Hon Richard 'Tricky Dicky' Benyon – Conservative – 33057 votes – 56.4%
Dr David Rendel – Liberal Democrats – 20809 votes – 35.5%
Hannah Cooper – Labour – 2505 votes – 4.3%
David Black – UK Independance Party – 1475 votes – 2.5%
Adrian Hollister – Green Party – 490 votes – 0.8%
Brian Burgess – Independant – 158 votes – 0.3%
David Yates – Apolitical Democrats – 95 votes – 0.2%
Voting Turnout: 70.2% (well done to the 30% who stayed at home – you're the cretins expressly to blame for this mess, Chumps)
So there it is, Benyon retains his seat comfortably, how I do not know – I emailed him 3 times about 3 seperate issues which i considered to be highly important in the last 4 years – The Digital Economy Bill (which he didn't vote on), and the Accountability of Elected Persons Bill (which basically spelt out how politicians were accountable to their constituents) and he declined to do anything at all about either issue, although his secretary did take the time to send me a nice patronizing reply insinuating I didn't know what I was talking about.
So then Today Is THE Day.
I've had enough of Mr Brown as I'm sure everybody has – except for the workshy benefit scungers among us who must have thought the last few years were like Christmas everyday!! £550 Housing benefit a month!? That's an expensive vote you bought there Brown…. Still ain't going to save you is it.
So get out there peopleand cast your vote. As you're doig it just imagine how you will feel to find Brown is still in charge, then imagine how you would feel to wake up on friday to find Cameron is in charge… same feeling huh – vote Green
Sorry to keep banging on about it but the date for the Election has now been set for 6th May 2010.
We have three real choices:
Labour for more of the same abuse we have been suffering for the last 13 years.
Conservative for some new and slightly different flavours of abuse.
Liberal Democrats who vow to clean up politics, and change Britian for the good.
In my humble opinion Labour have sold this country down the road since 1997. They have consistenly promised the earth, and then failed to deliver on every stage.
For Instance in 1999 Labour approved the spending of £170 Million pounds on new CCTV schemes,  a study which was done in  2004 by analysts MDB estimated that the spend on CCTV installation and maintenance in the previous decade (1994 – 2004) at approximately £4-5 Billion not taking the 24 monitering of the images into account. Now this isn't so bad if they actually improved conviction rates and made the area safer for residents.  However it pretty apparant from personal experience and a wealth of evidence that its not the case.
I have freinds who have been beaten up by bouncers outside Liquid nightclub after a night on the tiles, however when they have requested the CCTV footage – a perfectly legitimate request as you are entitled to a copy of anything your image is on, they have fobbed them off with excuses, ah the camera's weren't pointing that way or that incident wasn't recorded. All bullshit.
Basically goes to prove that once again the Labour government wasted a FUCKING truckload of our hard earned monies on a useless fucking system. We are the most watched country in the World by quite a margin, all down to Labour's ridiculous social policies.
With regard to crime prevention, when you allow for the fact that crimes have been categorized differently over the last 13 years to fiddle the statistics, It appears that in real terms the most violent crime has increased by 44%. What the fuck? So they spend BILLIONS on this CCTV system and the figures go up. Well it's pretty fucking obvious the 1984 state isn't going to work. Next question: How Many Ministers have 'interests' in the CCTV providing and maintenance companies??
Also think ID Cards, Digital Economy Bill (no more free WIFI) and its pretty obvious Labour don't want to court the people, they want to suck fuckin global corporation dick and they are happy to sell our liberty to get their lips round it.
As Nick Clegg said:
"You've failed. It's over. It's time to go."
Check him out…
http://www.libdems.org.uk/splash.aspx
Some of you may be aware, many probably are not, but the Digital Economy Bill is due for it's second reading in Parliament this afternoon. This piece of legislation is a prime example of everything that is wrong and rotten through British politics at the moment.
Firstly those conniving cnuts politicians have timed the reading in order to get the bill into the "wash up", a westminster process of backroom wheeling and dealing for bills that have run out of time to be properly debated in parliament, in order to get them to Royal assent (and therefore law). Ya Vol! Watch it UK, no democracy needed to pass laws up in this motherfucker!
Secondly, the entire thing is bollocks, Jack Skellington aka Purdy Peter Mandelson has basically gone round all the biggest media companies selling off any freedoms or consumer rights we might have had to the highest bidder trying to achieve fairness for all… Or has he….
Check this page for a quick breakdown of what is in it and what isn't.
Most importantly though, we're suddenly all fucking criminals:
Reducing online piracy and copyright theft
By far the most contentious part of the bill and the source of huge popular opposition. The DEB adds a clause to the Communications Act 2003 that says that ISPs must provide "copyright owners" (defined murkily in the Copyright, Designs and Patents Act's section 173 with details (though not identities) of copyright infringers. Quite possibly, anyone could claim to be a copyright owner.
As altered, the bill now allows for ISPs to be required to block access to sites that allow "substantial" infringement. One of Lord Mandelson's principal targets here – urged on by the BPI and Federation Against Copyright Theft and Federation Against Software Theft – is "cyberlocker" sites that let people store files, or move them between two people easily, which, lobbyists argue, allows widespread copyright infringement. The argument then becomes how you tell whether a cyberlocker is being used for substantial infringement. But as they don't publicise their contents (they are like safe deposit boxes for the web), how can it be determined whether they are substantially infringing?
One site that would immediately be trapped by this provision is Wikileaks – which exists solely to republish leaked, and hence copyrighted, work. Would a Trafigura-like company in the future use the DEB to shut off UK access to the site if something embarrassing appeared there?
The bill allows for the "temporary suspension" of internet connections for those deemed to have allowed multiple copyright infringement after warnings from their ISPs (who are required to maintain "copyright infringement reports" on users, anonymously). Hotels and businesses that offer free or paid-for Wi-Fi have expressed serious concerns that they would have to shut such services down.
The record industry is happy with the proposals, but many citizens aren't: in two days more than 10,000 people had contacted their MP via the 38 Degrees site to express concern and demand proper debate of the proposals.
A "proper" debate would take so long it would kill the bill – although Harriet Harman, the leader of the Commons, did suggest in a tweet that it will get "debate". The Tories, however, seem to be in favour.
(nicked from The Guardian)


See that some bullshit right there.
So I sent Benyon an email today asking him to push for more indepth debate and to clear up some of the more conentious issues before voting the thing through.
I urge you all to do the same, his email address is mp@richardbenyon.com.
Anyone else see this on Channel 4 last night?
I think it's really important we pick the right Government this time around as Labour seem to have decided to sell us down the river in the run up to their inevitable election defeat. After watching these three politicians for an hour on telly last night, I'm convinced Cable and the Lib Dems are the only way to go. Osborne was a too awkward, and lacked the balanced and considered views of Cable, instead trotting out party lines and insisting that Cameron agreed with his policies, all the while Darling kept calling him irresponsible.
Darling, as was pointed out by both Cable and Osbourne had his chance to make a difference during the last 13 years of Labour rule that ended in this mess, so he's out straight away. And between Osborne and Cable there was no competition, One seemed to be level headed, rational and firmly in control of the subject and the other one was George Osborne.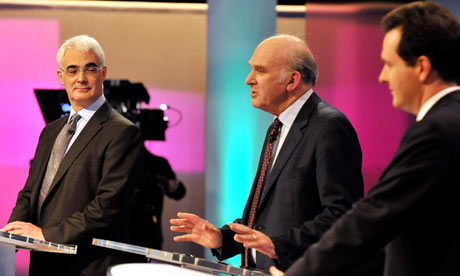 Vince Cable's closing message:
The Labour government led us into this mess. They have done severe damage to pensions and savings, they have wasted a vast amount of money on over-centralised public services.

The Tories presided over two big recessions in office, they wasted most of the North Sea oil revenue, they sold off the family silver on the cheap. Now they want to have another turn to get their noses in the trough and reward their rich backers.

The Liberal Democrats are different. We got this crisis basically right. We are not beholden to either the super rich or militant unions.
Think that says it all really.
Well according to the spineless hacks carrying out Murdoch's orders at The Times, the BBC plan to axe the online station BBC 6 Music as part of a drive to improve quality over quantity at the organization. There are several problems with this as far as I can see, which I will attempt to lay out for you here.
Firstly BBC 6 Music is currently the best internet radio station I am aware of, where else can you hear presenters as wide ranging as Jarvis Cocker, Craig Charles, Huey Morgan and Adam and Joe all in the same weekend?
Secondly the music they play isn't for all tastes, but it is definately justified and when compared to other BBC stations' the output is refreshingly different. To shut that off would effectively end its exposure as no commercial radio would dare be that bold for fear of losing ad revenue.
And thirdly and perhaps most importantly, this is a motivated purely by insatiable greed as David Bancroft writes:
"This article is originally from THE TIMES. It isn't true, it is Murdoch running up a flag to see who salutes. Internet news is the future, and the BBC is better at it than News Corp."
Murdoch has been out to get the BBC for a while now, obviously it riles him to have a publically financed company as the only real major competition for his own News Corp. In fact the BBC puts his pisspoor operation in the shade with it's transparency, value for money and general reporting. Murdoch's papers are sensationalist at best and just plain celebrity idolizing soft porn at worst yet this man is afforded more control over our media than any one person should have. And he then has the gall to press his boy to call for the breakup of the BBC.
I leave you with a quote from ThisIsAFix from The Guardian website:
"Damn you Murdoch – nothing you have done in your life has improved the quality of anyone's life on this planet other than your own. You are truly the epitome of Thatcher and the Neo Con vision for the world; a culturally ignorant morass of obedient, dumbed down consumers willing to pay massive subscriptions for piss poor media."
Gordon Brown, the democratically unelected Prime Minister of the UK once again failed to do the right thing last night and is still in a job. How he thinks he has any support is a complete mystery to me and even said:
"No doubt I have much to learn about a collective way of leading the party and the government. I have to learn how to be a full-time prime minister and a full-time leader of the Labour party."
in his speech to Labour MPs last night as a reason to keep his job….
I'm sorry Mr Brown – you've had plenty of time sitting atop Westminster to learn what's right and wrong, so stop exercising a mandate you have no right to exercise and kindly leave office now.
If he had any sense of right and wrong he would have called for a General Election soon after Blair's exit in order to gain approval of his promotion to the top office from the electorate. However it seems very much to me that his fear of losing and the resulting castigation into the political wilderness puts him off letting the public choose.
So is this a democracy? Cos it doesn't taste like one to me.
Mr Brown, do the please honourable thing for once in your career and either step aside or put your popularity and policies to the test and call an election.